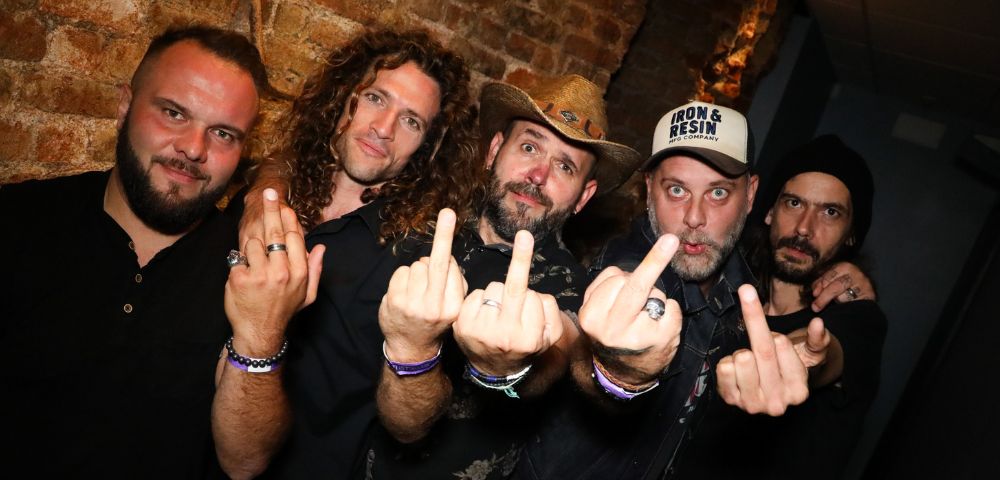 BAGDAD RODEO was born in January 2009 in a roommate in the heart of Paris, when two souls passionate about music and social satire, Christobal Sanchez Del Rodéo and MGR Delatourette, decided to merge their talents. When they don't listen to AC/DC, The Dandy Warhols or The Hives, they share their working days and nights to compose. In the intimacy, the first melodies of the group escape, the blank pages blacken, thus marking the starting point of BAGDAD RODEO.
François "Shanka" Maigret, guitarist of the French band No One Is Innocent, will give life to their musical vision by making their first album. Recognition soon knocks on their door, the band quickly signs a first contract but in a record company that will not last.
In April 2010, the clip "World of Shit" made a smashing entry on many platforms and websites, allowing our intrepid cowboys to criss-cross the hexagon and make their first concert sold out at the Nouveau Casino (Paris) for what they themselves named «The Tower of Shit».
Their eponymous debut album BAGDAD RODEO, which was released in June 2010, was praised by both the public and critics, such as the webzine Vacarm, which described it as "Fougueux et sulfureux" and propelled them into a whirlwind of concerts across France. It is at this time that the line-up of the band expands with the arrival of Matthieu "Houston" Lesénéchal on keyboards and Yayo on bass, contributing to the development of their second album, "DEUX". It was again entrusted to François "Shanka" Maigret. It was recorded at the Midilive studio and then mixed at the Acousti studio in Paris.
In November 2012, BAGDAD RODEO organized a memorable concert at the New Morning for the launch of "DEUX". BAGDAD RODEO affirms his style and finds his identity: a committed rock tinged with black humor. A passion for music and social satire.
During an interview, MGR Delatourette, questioned on his strong sense of humor retorts that humor can sometimes also be used to convey a message, which is reminiscent of the phrase of the «philosopher» Didier Super «better to laugh than to care».
After three years of frantic touring, the band moved to Montpellier, where it began to compose its third album. This time, they decide to free themselves from producers and launch a crowdfunding campaign: a success that encourages them to create their own structure.
In 2017, the album "TROIS" was recorded at the Vox Rapido studio in Montpellier and was exclusively for fans.
Taking advantage of the pandemic, the group decided to set up its own studio and renewed its line-up the following year with the arrival of Bud on bass and Bertrand on drums. Christobal Sanchez Del Rodéo et MGR Delatourette begin writing their fourth album, naturally entitled "QUATRE" an infinite project composed of songs that will emerge gradually. "There will never be "FIVE" but a "fourth infinite album, which will be pressed from time to time".
The release of "QUATRE – PART 1", in collaboration with the label Juste une Trace, is scheduled for January 2024.
For any partnership or special project
Please use the contact form to get in touch with us