GARY BRUNTON – Double basse
Gary Brunton was born in 1968 in Burnley, in the northwest of England. His father, John Brunton, was a true enthusiast of blues and jazz; he played clarinet and saxophone.
After starting with piano and clarinet, Gary Brunton discovered bass at 15. He was particularly drawn to the playing of Jean-Jacques Burnel (The Stranglers). However, one year later, he started playing traditional jazz. He quickly switched to double bass, teaching himself. Gary Brunton played with his father's musician friends and regularly performed in pubs in Burnley and the surrounding area.
In 1986, Gary Brunton entered Swansea University in Wales and pursued studies in foreign languages. He was just 18 years old and met musicians like Jonathan Lewis and Russ Jones, who gave him the opportunity to deepen his jazz culture. This is how he discovered the music of Joe Henderson or Bill Evans and the playing of bassists George Mraz and Ron Carter. One evening in Swansea, a good discussion with guitarist Martin Taylor gave him the desire to spend a year in Paris.
FRANÇOIS JEANNEAU – Saxophone
Born in Paris in 1935, he discovered jazz during concerts given by Charlie Parker and Sidney Bechet in Paris in 1949. He learns, in self-taught, the soprano saxophone then tenor. Initially inspired by Sidney Bechet, he joined in 1960 the quartet of the drummer Mac Kac who played every night at the Club Saint-Germain. He trained on the job, accompanying visiting American musicians. Since the 1960s he is one of the pioneers of free jazz in France, collaborating with JF Jenny Clark, Michel Graillier and Aldo Romano among others. In 1969 he formed the progressive rock group Triangle until their dissolution in 1974. In 1986, he was the first conductor of the National Jazz Orchestra, and in 1988 he recorded with his large ensemble Pandemonium, and was the first head of the Jazz and Improvised Music Department at the CNSMDP, a position he held until 2000. He participated in the development of a new musical language: soundpainting after his meeting with Walter Thompson in 1999.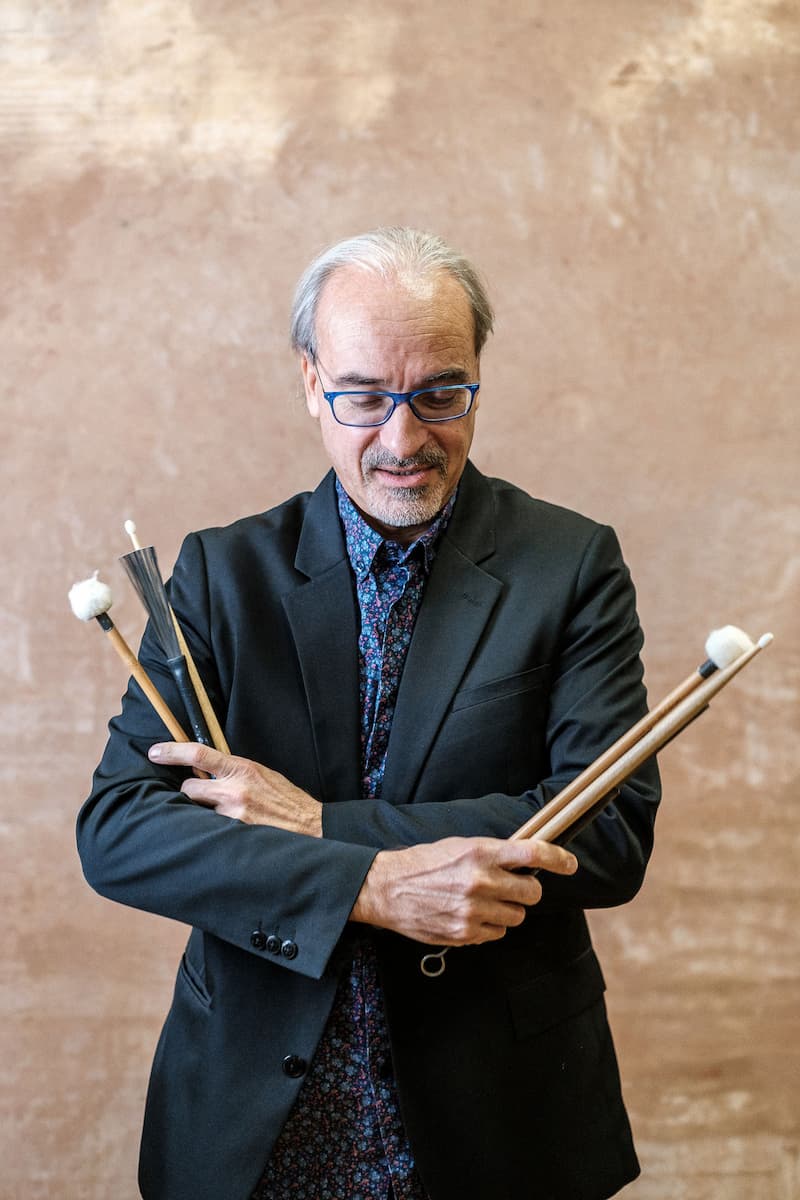 ANDREA MICHELUTTI – Drums
Born in Udine in 1962, of Italian origin, Andrea Michelutti taught himself to play drums and then moved to Paris in 1991. Since then, he has pursued a rich and intense international career as a drummer, composer, and arranger.
Forming the "house" rhythm section with Gary Brunton at the "Place au Jazz" festival in Antony, a Parisian suburb, Brunton and Michelutti have shared the stage with a large number of American artists such as Jesse Davis, Peter Bernstein, Scott Hamilton, Joe Magnarelli, among others. Andrea has performed several international tours and recorded several albums with saxophonist Jerry Bergonzi.
EMIL SPANYI – piano
Born in 1968 in Budapest, Hungary, this pianist, composer, arranger, educator, sound engineer, and sound designer holds a "Bachelor of Music" and "Master of Arts" degrees from the Franz Liszt Academy of Music in Budapest and a first prize from the National Conservatory of Music and Dance in Paris. He has performed with Philip Catherine, Ray Brown, Bob Berg, Mark Murphy, Gene Jackson, Don Alias, Clark Terry, Niels-Henning Orsted Pedersen, François Jeanneau, Nguyen Lê, and Archie Shepp. As an arranger, he has collaborated frequently since 2001 with several large ensembles such as the Tivoli Symphony Orchestra (Copenhagen), the Metropol Orchestra (Amsterdam), and the Copenhagen Radio Big Band, for soloists such as Sting, Nancy Wilson, Al Jarreau, Dave Sanborn, and Dave Stewart. He is a professor at the CRR in Paris and at the Haute École de Musique in Lausanne.
PAUL LAY – piano
Born in Orthez in 1984, Paul Lay is a versatile pianist whose unique playing style has been enriched by numerous collaborations over the past 10 years. After studying at the CNSM in Paris, Paul released his first trio album, "Unveiling" (with Simon Tailleu and Elie Duris), in 2010, which was warmly praised by critics. Over the past decade, he has won prestigious awards including the Soloist Prize at the Defense Competition, the Moscow Jazz Piano Competition, the Martial Solal Competition, the Montreux Competition, the Charles Cros Academy Prize for his second album "Mikado," and the Django Reinhardt Prize from the Académie du jazz. In 2017, he released a double album "The Party" and "Alcazar Memories." He has collaborated on numerous albums with Isabel Sörling, Riccardo del Fra, Eric Le Lann, and Géraldine Laurent. In June 2021, Paul Lay released his first solo piano album with the Gazebo label: "Full Solo." In September 2022, Paul Lay joined the teaching team at the National Conservatory of Music and Dance in Paris as a jazz piano professor.
Photographs of Gary Brunton, François Jeanneau, Andréa Michelutti and Emil Spanyi by Camille Huguenot
For any partnership or special project
Please use the contact form to get in touch with us