At the end of the sixties, Paul Péchenart grew up surrounded by the noise and fury of the Stooges, the Who, Steppenwolf and other stressed out crazies. For him playing rock music was an act of rebellion and crazy excess. In 1973 he put together the Dogs with Dominique Laboubée, Michel Gross and François Camuzeaux. At the end of the 70s he took to the road with Larry Martin Factory.
At the same time curious, spontaneous and talented, Paul Péchenart played in various groups without ever really questioning himself too much (this could be the same spirit in which Paul Jr is working today). He loves getting up on stage, hooking up his guitar and turning on his amp.
Often open to new experiences and free as a bird he backed up American bluesmen on their European tours. During the 80s we found him working with Screamin' Jay Hawkins, Champion Jack Dupree, Luther Allison, Hubert, Sumlin or Sonny Rhodes.
He also recorded several albums, notably The Froggies with Johan Asherton and Jay Ryan (which later became Jay and the Cooks).
In the 90s, he took up his pen and started writing his own songs and finally released his eponymous debut album; it was a brief interlude from his rock world into "chanson Française".
Then on two albums, "Eté comme hiver" in 2010 and "Vagabond" in 2013 Paul Péchenart accomplished a synthesis between orchestrations that were voluntarily uncluttered rock and poetic lyrics. That same year he published "Une grosse boule de feu" (Editions Camion Blanc), a book about his experiences from childhood and youth that drove him to the excesses and outrageousness of rock.
On stage, he is backed up by his natural and spiritual sons Paul Péchenart Jr (drums, guitar, vocals) and Esteban Avellan (bass). After playing over 350 concerts together, they recorded «Intacts» (2017 – Juste Une Trace), «Un Enfant de la Rue» (2019 – Juste Une Trace), «Ce que tanguer veut dire» (2021 – Juste Une Trace) and « Mon coin de ciel » (2023 – Juste Une Trace).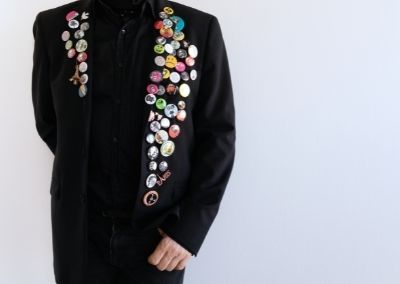 Paul Péchenart – Photographies by Julien Castres
For any partnership or special project
Please use the contact form to get in touch with us