Blues, Rock, Country, Cajun, Folk… UP THE MISSISSIPPI is a musical creation by Jay and The Cooks.
From Louisiana to the Great Lakes, we're going up the Mississippi, traveling through sound landscapes that unify and don't divide. Sounds, many and varied, but with strong roots.
A real cake walk through North American music enhanced with photography, video and reading from famous authors.
UP THE MISSISSIPPI is not trying to reproduce the same thing that has already be done by the greats. It's a very personal take on and homage to the music that has influenced Jay and the band for their entire lives with a majority of original songs. There's no getting around it. Jay doesn't come from Mississippi, He can't and doesn't want to sing like the guys from Clarksville, but the message they and the folks in Memphis and Nashville sent out to the world is what this is all about.
With this creation, he also wanted to give a good place to the literature. Jay contacted Greil Marcus who accepted that he integrates into the show extracts of « Mystery Train ». The Minnesota Historical Society Press also accepted that he inserts passages of « A Stretch on the to river » by Richard Bissell. Also, you will hear short extracts of « Adventures of Huckleberry Finn » by Mark Twain in a traditional and improvised sound atmosphere.
The show UP THE MISSISSIPPI can be coupled with the photo exhibition by Edith Gaudy. To know more about the exhibition.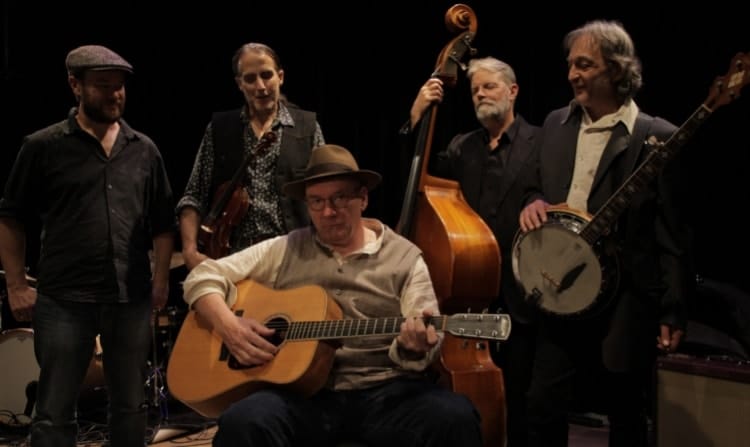 Artists
Jay Ryan – vocals, guitar
Stéphane Missri – guitar, banjo
Paul Susen – fiddle, mandolin
Marten Ingle – bass
Jean-Serge Karsky – drums, percussions
Credits
Lyrics and music : Jay Ryan, traditionals and covers (Bob Dylan, Muddy Waters)
Photographies and Videos : Edith Gaudy, Irène Bessone
Literature : extracts of «Mystery Train» (Greil Marcus) , «A Stretch on the River» (Richard Bissell), «Adventures of Huckleberry Finn» (Mark Twain)
Production : Juste Une Trace
With support : IMM | SACEM
BOOK NOW
For any partnership or special project
Please use the contact form to get in touch with us