Get out the lassos and get ready to ride the absurd with BAGDAD RODEO! The super independent rock band presents "QUATRE – L'ALBUM SANS FIN – PART 1": a wild musical experience that takes us into a whirlwind of social satire and caustic humor. Sensitive ears abstain because here, we chew neither words nor riffs. It is direct, frank and in good humor.
Release date: January 26, 2024 – PRE-SALE NOW – DELIVERY IN PREVIEW (shipping in december)
11,99€
"QUATRE – L'ALBUM SANS FIN – PART 1" bears the unique signature of BAGDAD RODEO, fed with rock AC/DC, Bérurier Noir or their touring friends Les Fatals Picards. It is a never-ending work, a project that will never cease to surprise just as topical subjects or news stories do. With this album, the band seeks to offer an exceptional musical experience to its fans, unveiling new songs over time and then bringing them together on a physical medium to hold in the hand but also to offer them.
The album starts with the song "Revolution Vendetta", a resolutely protest song that unequivocally confirms their punk side. As Bishop Delatourette states: "At a time when artistic freedoms are under attack from all sides, where the popular courts are legion, and censorship a weapon of falsely benevolent minorities, BAGDAD RODEO is, with loss and uproar, always convinced to stay out of the concrete paths of a moribund and careerist French rock. Whatever the purpose, BAGDAD RODEO will not bend." And it's true, this group is really an independent group.
If you imagine for a moment, a world where "Le dernier Communiste" wakes up, alone, surrounded by his worst enemies, and where all the values of sharing have disappeared. "What would be this wonderful world where everyone votes right?"
We continue in a relaxed way with "Le mec qui s'en bat les couilles": the very embodiment of total indifference. With such a direct and impertinent title, BAGDAD RODEO sends a clear message: sometimes it is good not to worry about details, formality or expectations.
In the title "Enfer et Paradis" BAGDAD RODEO wonders: hell is perhaps more tempting than paradise? Priests, disgruntled neighbors and Sunday barbecues come to life in this sarcastic fresco. In the same vein, "La magie de Noël" poses a cynical look at the family holiday. BAGDAD RODEO does not really in the social.
A quick look back at the global pandemic, which is divided into three main moments: "there was a before covid, an after, but also a counterpart. And during, but what the fuck was it long and boring": it's "Le Monde d'Avant".
"C.O.2.N.A.R.D": a scientific formula to describe this new generation of influencers. Questionable life advice and faulty product placements make these "C.O.2.N.A.R.D." dangerous social media prescribers. Hopefully they will not hesitate to answer BAGDAD RODEO.
Then follows the titles "On est des Cons" and "Adios Les Cons", another farewell to the absurdities of modern life: BAGDAD RODEO says aloud what we think very low. Get out of the saloon of social mediocrity and take the road to freedom! BAGDAD RODEO is a group that is not afraid to take the bull by the horns and point the finger, including the verb, everyday life.
The philosophical "J'me sens bien" is a reflection on the ups and downs of life. Sometimes it's okay, sometimes it's depression. It's 50/50. We dig the questioning of humanity with "On Est des Cons", in which BAGDAD RODEO wonders if we are really on the right track. The answer? Well, we're idiots.
Now let's take a seat on "Le Divan". Comfort, overconsumption, conformism. BAGDAD RODEO reminds us that even if "we all want change, a different future, we always stay our asses on the couch."
"Ton Dernier Requiem" concludes this "PART 1". The eternal struggle between BAGDAD RODEO and the greed of modern man. "A duel in the sun that is played with passion and… endless!"
So saddle up and get ready for the wildest rodeo of the year with BAGDAD RODEO and their album "QUATRE – L'ALBUM SANS FIN – PART 1". This musical adventure will make you live a triple gallop race in the universe of the absurd and social satire, and you will ask again because they are really funny these idiots!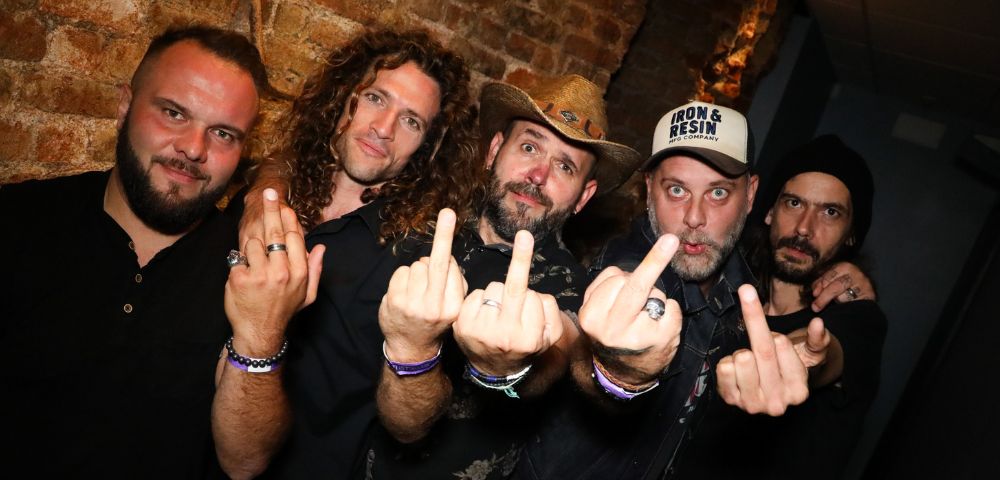 Révolution Vendetta
Le Dernier Communiste*
Le Mec qui s'en bat les Couilles
Enfer et Paradis
La Magie de Noël
Le Monde d'Avant
C.O.2.N.A.R.D.
J'me sens Bien
Le Divan
On est des Cons
Adios les Cons
Ton Dernier Requiem*
Lyrics and music by Ludovic Dufour & Christophe Sanchez except * Lyrics by Ludovic Dufour & Christophe Sanchez and music by Ludovic Dufour, Christophe Sanchez & Matthieu Lesenechal
Éditions Amoc
BAGDAD RODEO
MGR Delatourette – Lead vocal
Christobal Sanchez del Rodéo – Guitar
Matt "Houston" Lesenechal – Guitar, Keyboards
Renaud "BUD" Cadeau – Bass
Bertrand "BB" Trébaol – Drums
---
Produced by DADDY RODEO PRODUCTIONS & BAGDAD RODEO
Recorded & mixed by Ludovic Dufour & Christophe Sanchez at Studio Lapalette & le Ranch Studio
Arranged by BAGDAD RODEO
Mastered by Matthieu Lesenechal
Design and artwork by Ludovic Dufour
Photographs by CFK
Release date : 26-01-2024