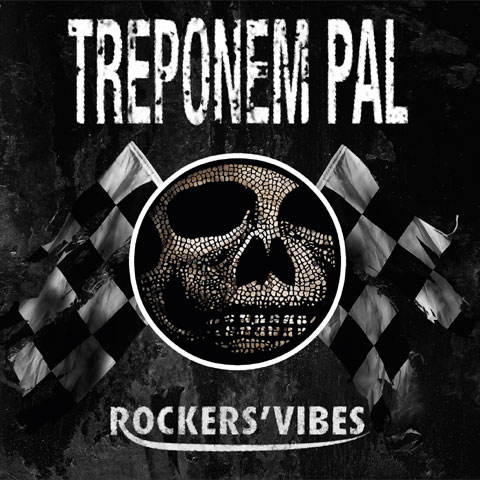 The 7th Treponem Pal album celebrates the band's thirtiest birthday with original Pal tracks and a bunch of covers twisted their own way.
Years have passed but time has no power on their music. On the opposite, it is all timesless and of an absolute vitality. Treponem Pal's music has always been a loud patchwork. Extreme modernity and corrosive old school merge permanently.
The band has become a master in the art of juggling with riffs and words, the art of forging sounds and hammering beats, the art of combining spontaneity and machines. Rockers' Vibes is in the vein, but also has a few surprises in store.
11,99€
The trip to chaos land is guaranteed with the assurance to come back or dive again and feel stronger. You're going to cross industrial regions built on samples, programming and the power of the beats, and then discover under new angles surprising or even yet unexplored landscapes for some of you, guided by manipulative guitars and a voodoo bewitching singing.
Riding on heavy riffs, unbounded machines and precise drumming, Marco Neves' voice, still powerful and husky, sometimes takes crooner accents : "Indian reservation" is a hit.
This record includes a few covers of classic rock'n roll tunes that influenced the band over the years (B52's, Thin Lizzy, The Dead Boys or Tom Waits…).
The band has enroled new members such as Jipouille de St loup who produced the full album, Stéphane Borselino ex Dr schultz Experience on the bass, and Guillaume Labaume ex Norma Loy on the massive drums.
Recorded at the Jipouille de St Loup studio and co-produced by the band and his old partner-in-crime, Rockers' Vibes" is a true experience !
1. Fighter – Treponem Pal 3'46 (Amoc)
2. Planet Claire – B-52's 4'17 (401k Music Inc – Northridge Music Company – Kobalt Music Services Ltd)
3. Human Shotgun – Treponem Pal 3'10 (Amoc)
4. Are You Ready – Thin Lizzy 2'38 (Pippin the friendly ranger music co ltd)
5. Silico's Return – Treponem Pal 5'26 (Amoc)
6. Some Velvet Morning – Lee Hazlewood 3'42 (Hazlewood Lee Music Corp )
7. Souls On Fire -Treponem Pal 3'06 (Amoc)
8. Indian Reservation – John D. Loudermilk 3'07 (Sony Atv Acuff Rose Music)
9. Way Down In The Hole – Tom Waits 3'35 (Jalma Music)
10. Freedom Or Suicide – Treponem Pal 4'47 (Amoc)
11. Hear Me Calling – Ten Years After 4'02 (Chrysalis Music Ltd)
12. I Need Lunch – Dead Boys 3'39 (Dead Boys Music – Warner Tamerlane Publishing Corp)
Marco Neves (Vocals)
Polak (Guitars, bass)
Didier B. (Keyboards, samples)
Jipouille de St Loup (Guitars)
Stéphane Borselino (Bass)
Guillaume Labaume (Drums)
Béatrice Demi Mondaine (Vocal) : 6
Sven Pohlhammer (Guitar) : 11
Vincent Bigaillon (Guitar) : 4 (1st solo)
Mystic Gordon (Guitar) : 6
Mathys Dubois (Drums) : 1, 5, 9, 12
Jason Belial Mathieu (Drums) : 4, 8
Raphael Mercier (Drums) : 11
---
Recorded by Jipouille de St Loup
Mastered by Maor Appelbaum | Maor Appelbaum Mastering
Cover design by François Zacchi
Produce by Higher
Release date : 29-09-2017