Campaign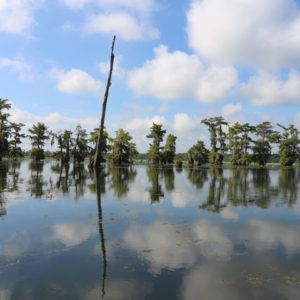 We're going up the Mississippi with Jay and The Cooks.
We are traveling through sound landscapes that unify. Blues, Zydeco, Rock, Country, Folk : a real cake walk through North American music
Despite the different styles, Jay has succeeded in creating links & bridges to guide us up the river. It seems to reduce distances between genres which offers us a pleasant trip up along the old river. Like all the States one crosses going up the river, the album is unified in its diversity.
From Louisiana to the Great Lakes: sounds, many and varied, but with strong roots. The sessions were recorded on good old analogic tape to make sure we stayed in the mood; with musicians that know North American roots music, a studio recording with a decidedly live feel.
Most compositions are original, no-frill texts, stories about society and some timeless hits. Jay put a great deal of thought into the album but kept it spontaneous and authentic. The trip starts in Louisiana where alligators roam and some sing in French. We finish up the exploration near the Great Lakes, and the source of the river in Minnesota, the birthplace of Bob Dylan and his protest songs.
Your participation will enable us to finance a CD limited edition.

14-09-2018

Release date

UP THE MISSISSIPPI is available directly on Juste Une Trace website and stores.

11-12-2017

We start de recordings

First recordings at Studio 180 with Arnaud Bascunana !
For the curious who don't know Jay already you can check him out here to get some info..
For the others, you already know that he's an affable guy, loves literature, cooking and has character. His music is like the man.
With Up the Mississippi, Jay opens a world where music is often the center of things. He has put together his influences to sum up, in 11 songs, what people that go up the river might hear.
If you have already made the trip you'll re-live your memories and impressions in the music. And if you haven't made the journey yet, UP THE MISSISSIPPI is a good way to imagine and visualize life in the neighborhoods, in the cities and above all the people.
On bass, from California Marten Ingle. Marten settled in France in the early 80's after having listened to John Cage. Marten has played with among others: Percy Sledge, Tony Allen, Ray Lema, Elliot Murphy, Louis Bertingnac, Jean Louis Aubert and Patrick Verbeke.
Playing fiddle and mandolin, Paul Susen, from Illinois and schooled in Seattle, grew up musically playing in several Classical orchestras while still touring with Folk, Bluegrass, Country and Rock groups. He has been living in France since the 90's. These days we find him accompanying Le Coulntry Club for Old Men, The Misfits and even alongside Gypsy guitars.
On drums and assorted percussion, born to a Russian mother and an American father we find Jean Serge Karsky. He's played with several rock bands, taken part in "batucadas", explored the sounds of the Congo on the Cajon, Udu and other percussions with the band Tchivol. He also loves traditional instruments like the washboard and spoons.
Taking care of banjo and guitar, Stéphane Missri has been soaking up North American music in all its forms from Bluegrass to Psychedelic his entire musical life. After being a member of several groups, among them Jamasutra, he now performs in a duo with the famous Barry "The Fish" Melton (member of the legendary group Country Joe and the Fish of Woodstock fame).
Other of Jay's fellow travelers have also taken part in the project. The writer Marco Vichi has penned a song. The author of «Commissiare Bordelli» isn't investigating here, he's rather considering a reality of not so long ago, of blood and sweat and slaves. Philippe Gosselin, a bayou buff, has written the only French song on the album, inspired by Cajuns, which should get you on the dance floor. Tyler Jameson Barnes has composed a blues that one might hear late at night in a half-lit club not far from Clarksville. A man and a woman meet, and a few well-placed words tell the whole story.