Le 1er août 1966, le single TONIGHT THE BOTTLE LET ME DOWN sort. Écrit et interprété par Merle Haggard, ce hit atteindra la 3eme place du U.S. Billboard Hot Country Singles et fera connaître l'album Swinging Doors. Il était diffusé sur toutes les radio et c'est sans doute comme cela que Jay, en pleine adolescence, a découvert ce titre.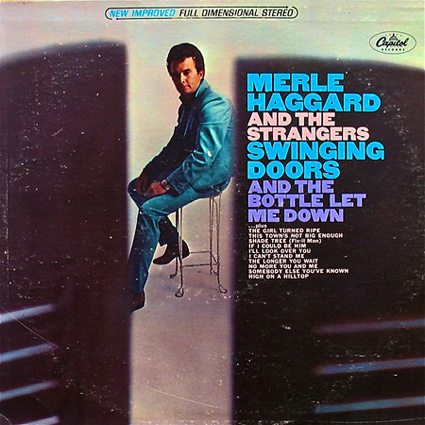 Merle Haggard est d'une génération avant Jay. Ses paroles directes et plus encore sa musique l'influenceront indéniablement. Il a développé le Bakersfield Sound en réaction aux productions trop léchées de Nashville. Ces enregistrements sont plus spontanés, moins formatés. Ses mélodies sont simples. JAY and THE COOKS aime ce son mais propose un cover à la fois grave et guilleret sur DUTCH OVEN.
Au début des années 70, le Grateful Dead reprend sa chanson Mama Tried puis c'est au tour des Flying Burrito Brothers. Joan Baez alors chanteuse activiste reprend « Sing Me Back Home » en pleine guerre du Vietnam même si Merle Haggard attaque les contestataires. Merle Haggard est toujours direct. En 1989, par exemple, il a écrit en plein débat une chanson pour dénoncer le droit de brûler le drapeau et montrer du doigt les hommes politiques que ne respectent pas grand chose ou qui ont la mémoire courte… Sa maison de disques évite de sortir le single. Du coup, il casse le contrat qui le liait avec CBS et signe chez un indépendant en affirmant qu'il n'a jamais été du genre à cirer des pompes et à faire ce qu'on lui dit de faire, « c'est dans ma nature que de me battre avec le système« .
Comme son nom l'indique, la chanson TONIGHT THE BOTTLE LET ME DOWN ne parle pas d'eau. Imaginez-vous sortant d'un bar à l'heure de fermeture… Jay est aussi passé par là.